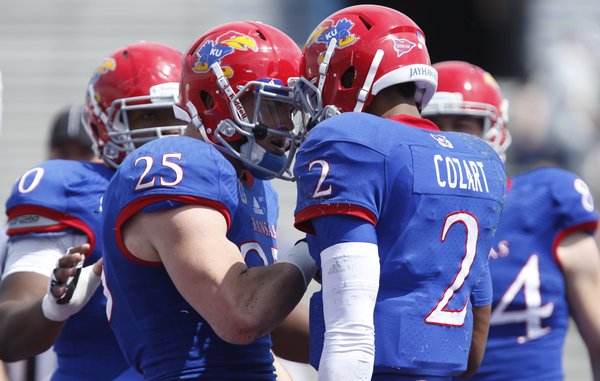 Here is how I see the squad stacking up this year. Disclaimer: I am far from an expert, and was pretty drunk for most of last season (can you blame me?) so bear with any inaccuracies or players I forgot. Anyway, without further ado:
2013 Recap
KU finished with a 3-9 record, which on the surface is disappointing, but there were a few highs, namely ending a 27 game conference losing streak and.... okay, really that's it. A game-winning FG in a 13-10 squeaker over Louisiana Tech isn't exactly a "high." Regardless, the team did show signs of progress, namely on the defensive side of the ball. The numbers aren't great, but in what became a trend, the defense did compete, particularly early in games, but were undone by an offense that simply couldn't stay on the field. The Jayhawks tried a few different things on offense to get some success, namely alternating between junior Jake Heaps and the more athletic freshman Montell Cozart at quarterback, with mixed results.
Key Losses
RB James Sims
KU's 2013 leading rusher, and third all time on the KU career list, he is a massive loss.
DL Kevin Young
DL Keba Agustinho
Two anchors of KU's defensive line over the past couple seasons. Neither were world-beaters, but were solid contributors and will be missed.
Rob IaneLOL
WR coach demoted to recruiting coordinator. WR was the most disappointing position group at KU in 2013, so it's not a huge loss.
Key Newcomers
John Reagan
Formerly Rice's OC, and before that, OL coach at KU under Mangino. Charlie Weis has a rep for being egotistical (and largely deserved), but relinquishing offensive coordinator duties and handing the reins to Reagan is a good sign. I know from a personal acquaintance of mine that Reagan is a hard-ass, but will motivate players and expect excellence. He will bring an identity to this offense, something we haven't seen in a while (which has mostly been out of necessity). And some of the decisions KU has made in the offseason (more on that in a moment), plus Reagan's experience at KU and Rice, have me cautiously optimistic about the look of the offense.
Eric Kiesau
New WR coach. Don't know much about him, but has a good resume and looks to be a good hire. Came over from Washington's staff after Sarkisian left for USC.
QB
Montell Cozart
Jake Heaps
The big news this offseason is Weis announcing Cozart as the starter. He showed glimpses as a true freshman last year, but as expected, he had freshman moments. This is surprising, again, because if you buy into the "Weis is arrogant" hype, you would expect him to ride with Heaps, who he brought in as a transfer from BYU almost immediately after taking the KU job. I think it's a great decision, personally, for a few reasons. The KU WR corps as a whole is underwhelming, and Heaps relies on his arm only to make plays - if his receivers can't help him out, his usefulness is limited. Cozart at least is a running threat and opens up the playbook a little more. Secondly, Cozart gives me hope that KU can establish an identity, with his athletcism and Reagan running the show. Look at how Rice utilized Taylor McHargue the last few years for an idea of what this offense could look like. And if Cozart could get a little more accurate, dare we dream of an offense that eventually looks like it did when Todd Reesing was running the show?
Getting ahead of ourselves a bit, but Cozart is a sophomore and could be an exciting player by the time his career is done. That said, I do expect a mix of both QBs for a variety of reasons. Cozart's style of play could lend himself to getting hurt, and general ineffectiveness could relegate him to the bench on occasion (Weis has shown a puzzling love of swapping QBs on a drive-by-drive basis at times). My uninformed opinion could see about a 65%/35% split in playing time for the two.
RB
Again, losing Sims is huge, but this is still arguably the deepest and most talented unit on the team, albeit unproven. Darrian Miller is the top returner, averaging 4.8 YPC last year. He as shown he has the tools to be an impact player at the BCS level, but has been kicked off the team once, and missed part of last year for additional "personal" issues. Brandon Bourbon has shown flashes, and was the most effective in the spring game. He has seemingly been transitioning more to a WR/Flex role, as he finished fourth on the team last year in receiving. Taylor Cox transfered from Juco in Weis' first year, and has shown the ability to be an effective, if not necessarily game-changing back. These three are going to see the bulk of the touches at this position.
Transfer DeAndre Mann was Juco All-American and has a shot to get some playing time, but after Mr. 2000 Jocques Crawford, it's difficult to expect a huge impact by a Juco transfer in his first year in the Big 12. Travevon Wrench was a 4-star recruit out of Gardner who picked KU over Mizzou, Nebraska and others. As a true freshman, he may not get many snaps (or any at all) but he has a chance to at least see the field.
Again, the RB corps is largely unproven, but I am confident that KU will still be able to piece together a decent running attack.
WR
Woof. The top returner is probably Justin McCay, who picked OU over KU out of Bishop Miege, but couldn't crack the depth chart in Norman, so came back to Kansas where he still is lackluster. Tony Pierson is arguably the most talented player on the team, but is a converted RB and battled concussion and other injury problems over the past couple years. He's a hell of a player, but it's hard to expect a full year of production out of him. Nick Harwell was kicked off of Miami (OH) and came to KU as a transfer last year, but had to sit out the year. The team expects big things from him, and he has a track record of putting up numbers as well. Tre Parmalee could have a breakout year, he played as a true freshman in 2012 and improved a little last year. Still, this is a largely unproven group. Let's hope new WR coach Kiesau can whip these guys into shape, because it was ugly last year.
Jimmay Mundine is the top returning TE, but the team expects redshirt freshman Ben Johnson to become an impact player. Kent Taylor, formerly the #1 TE recruit in the country, transferred over from Florida, but has to sit out the year. He would be a useful option, but rules are rules.
OL
KU returns two starters in Ngalu Fusimalohi and Mike Smithburg, but have a number of guys who saw playing time last year. I'm far from an OL expert, so others may have to provide some scouting and insight on individuals. The big development here will be the impact that Reagan will have on these guys. The spring game results were iffy (first team gave up two sacks), but I expect improvement throughout the season. Reagan had a hand in developing guys like Anthony Collins, so let's hope he can have an impact here.
DL
Despite the losses of Agustinho and Young, this group still returns a lot of snaps from last year. Ben Goodman returns as the "buck" pass rusher, and Keon Stowers will likely be the anchor on the line. Stowers was the defensive player of the game in the spring game with 8 tackles. Ty McKinney came to KU with moderately high expectations, so the team hopes he can begin to make an impact. I don't expect greatness from this squad, but let's hope they can at least hold their own. Depth could be a problem, but two Juco transfers are coming in that can hopefully play right away and alleviate this concern.
God, this line would look much better with Chris Martin still on the squad.
LB
Ben Heeney was second-team all-Big 12 last year, and is the best returning defender on the roster. The dude is a tackling machine. KU will likely continue to play with an extra DB as much as possible to combat the wide-open offenses in the Big 12, so Heeney's partner in the LB corps could be LB by committee. Juco Transfer Marcus Jenkins-Moore was expected to be a difference-maker last year, but suffered a knee injury before the season began and was lost for the year. Schyler Miles followed Weis from Florida to KU, and if he's good enough to be recruited by the Gators, he's good enough for my team. Jake Love and Samson Faifili will see playing time too. Other than Heeney, this group could struggle.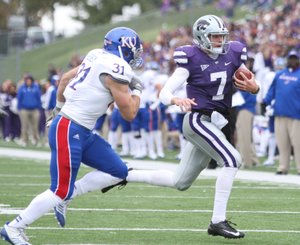 Secondary
As a whole, probably the best group on the defense last year, and should be better this year. Victor Simmons is just about the only key loss from the group, but they are adding transfer CB Kevin Short, who was expected to start right away last year, but had to sit out due to the NCAA doing NCAA things. JaCorey Shepherd and Dexter McDonald are solid CBs who were both honorable mention all-Big 12. They are seniors who both have had experience and success. Isaiah Johnson (2013 Big 12 Newcomer of the Year) and Cassius Sendish return as starting safeties. Again, these guys will have their work cut out for them simply due to the style of play in the Big 12, but they are a talented group. Depth could be a concern if one or two guys go down, though.
ST
Special teams have been an adventure since Mangino left, and don't look to be any different here. The offensive skill positions have enough talented guys that we should be able to have some decent return units, but the kicking game could be lousy. Matthew Wyman is the top returning PK (the hero of the LaTech game) but is far from a world beater, missing three (3!) PATs last year. Trevor Pardula is the likely candidate for punter.